Application Maintenence & Support
Increased efficiency through ever-evolving SLAs
As part of your outsourcing program, you want the perfect balance between keeping a complex application portfolio under control and reducing costs. Cost reduction through labor arbitrage may not be enough. Business keeps changing and portfolios keep growing. Traditional maintenance contracts cannot keep up with aggressive business efficiency goals. S4C can help. Our Service Level Agreements constantly evolve, increasing efficiency and value.
Our model addresses all the aspects of complex application outsourcing engagements:
Scope of Services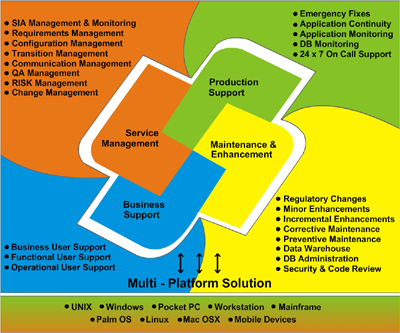 Assessment Process
S4c's AMS Assessment is a process geared with all elements you need to provide you with a comprehensive understanding of your organization's structure, stakeholders, scope, metrics, application categorization, productivity levels, opportunity areas and much more critical data. Let S4C conduct an assessment for you and obtain the specific data to suit your needs. We'll understand, gather, document and recommend.
Ever Evolving Service Delivery
We are committed to provide you with the model that makes your operation more efficient and cost effective, always. Regardless of your process maturity levels, or your organizations, we will work with you to get you to where you can get the most benefits from your maintenance efforts. We'll work out a plan that suits your organizational speed for change.
Transition Methodology
We understand the risk of this phase. The need to maintain a stable SLA even during knowledge transfer. Our mature knowledge transition methodology assures we are taking into account every critical issue.